Couple yoga, also commonly known as partner yoga, is usually practised with a friend, family member, or better half. Yoga is highly recommended for everyone, but practising yoga with your partner has its own set of benefits. Practising couple yoga with your better half helps both of them learn from each other, improving their existing relationship. 
2 million people all over the world are practising yoga which is predominantly a physical workout, and sometimes it can be hard to be motivated for a workout session. In such cases, it is good to have a partner who will be your constant cheerleader and supporter throughout the entire yoga session. Couple yoga is very much similar to traditional yoga. It includes all the stretching, meditation, chanting, and Asana, which benefits the mind and body in return. 
Why should everybody try out couple yoga with their better half? 
Yoga practice brings together mind and body; that is why practitioners cooperate with each other rather than competing. This way, they are able to motivate better and encourage each other. There are lots and lots of benefits that one can unlock by practising a couple of yoga asana on a daily basis. Some of the benefits are developing deep trust, starting to know your partner better, slowly experiencing the benefits of yoga together, and learning a new advanced posture that only partners can do it.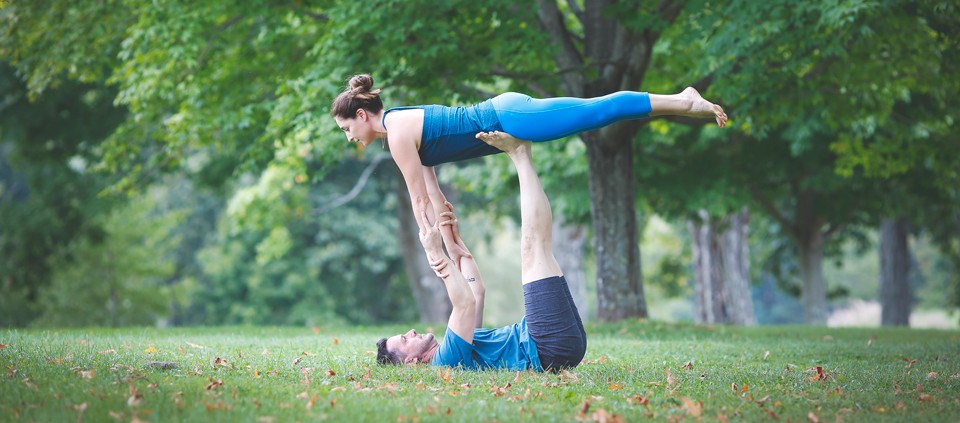 How to work as partners while practising couples yoga? 
Couple yoga requires a lot of synchronization; It is essential to learn about each other's weaknesses and strengths to maintain balance throughout the posture. When you practice a couple's yoga with your friends, family or better half, you start communication with your partner to perform the Asana better. Along with this, look into your partner's eye while practising as it reflects confidence while you are communicating and practising. These are some of the basic fundamental principles which helps people while following couple yoga workout. 
If you are new to yoga, you can quickly sign up for a couples yoga classes for beginners. Going through a beginner yoga class will help you build strength and endurance, helping you take advanced yoga classes. Moreover, a couple of yoga classes are available in abundant both offline and online, so you can easily choose according to your preferences. 
Yoga only demands a disciplined lifestyle that includes coming back to your mat regularly, sleeping on time, eating the right foods, staying hydrated throughout the day and many more. Yoga slowly tunes our life into the right frequency, and these perks are just double when you practice yoga with your partner. Signing up for couples yoga for beginners will help in the learning curve of the practitioner. So if you haven't tired of your partner's yoga so far, make sure you try it once in your lifetime as it is a fun, engaging form of exercise. 
Anyone who has already tried out a couple of yoga knows how much rewarding it is; If you don't see how it feels like to do the twisting posture with a partner, you surely need to join a class of couples yoga for beginners. This form of yoga will improve your personal life also your professional life. If you have a busy schedule, and it is hard to incorporate yoga into it, join a live class or online class, where you can practice yoga at the comfort of your own home with your partner. All you need is an internet connection and voila!!!!! You can practice yoga at home, Isn't that amazing. Go ahead and add a couple's yoga to your to-do list.